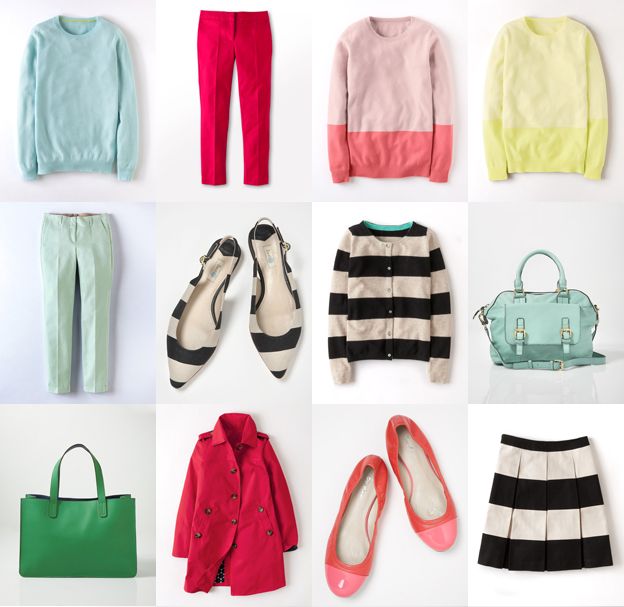 I have been falling in love with mixing, matching and color blocking, and all in a very subtle "cocorosa" way of course. A simple add of a bright color like red, green, yellow or fuchsia in accessories adds such a spark of contrast and color to pastel and soft white looks. A bright red tote can complete a look into perfection as I found out.
My whole introduction to my single accessory color splashes came when I received an email from

Boden

and I found myself pleasantly surprised by continually peeking into

the site

loving the soft pink with red combinations in looks, mint colors set against bold stripes and splashes of yellow that started to grow on me. Now, I'm much more of a soft dreamy pastel girl and less of a color blocking queen like Gary Pepper's

Nicole

or Atlantic Pacific's

Blair

but a bright accessory here and there, bold stripes in voluminous silhouettes or bright jumpers set against my pastel looks...hmmmm I'm more than willing to try.
xoxo
in the collage:

Light Blue Jumper

,

Red Trousers

,

Pink Jumper

,

Yellow Jumper

,

Mint Trousers

,

Striped Slingbacks

,

Striped Cardigan

,

Mint Bowling Bag

,

Green Tote

,

Red Coat

,

Color Block Flats

,

Striped Skirt

,

Yellow Coat

,

Silver Tote

,

Yellow Bowling Bag

,

Fuchsia Tote
ps.

Code

D47Q

gives

20% off selected items plus free shipping

from now through March 23, 2014